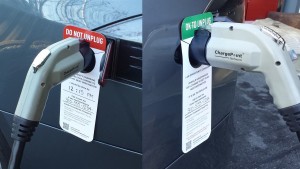 Electric vehicles are becoming more popular and it is becoming increasingly difficult to find an available public EV charging space. Good etiquette by the user community is vital as the infrastructure catches up with demand.
Take Charge and Go EV Charging Hangers are an excellent way to indicate to other Electric Vehicle drivers know how long you will be charging and to share proper etiquette. Simply plug your car in with the hanger on the charging port or dashboard of your car and let others know when you can share the spot.
The charging hanger is made from durable 120# recycled Forest Stewardship Council (FSC) certified recycled paper card stock
The hangers are printed on both sides to indicate whether you are necessity charging (RED – DO NOT UNPLUG) or opportunity charging (GREEN – OK TO UNPLUG)
The color coding makes it easy for fellow EV drivers to tell if they can share the plug
A keyhole cutout provides a sufficient fit for most J-1772 charging handles. A slip-on cutline is provided for easier installation and removal while charging
The red DO NOT UNPLUG side has space to write what time you should be done charging with a dry erase marker or a post it note
Both sides have a space to leave contact information and provides tips for good etiquette

Never park in a charging space if you are not charging
When charging in public, limit your charge, don't charge to your limit. Move on so others have the opportunity to to charge
Never unplug another car without permission
A QR code and website link are provided for additional information about public EV charging and different car brands charging indicators
Hangers are UV coated provide protection from the elements and work well with permanent and dry erase markers and post-it notes to leave information
Designed and Made in the U.S.A.
This is a new product so we are testing the market with an introductory Ebay offer. Retail value is usually $4.99 each, but we are selling in this introductory offer at half price. 
We have single hanger pricing available on Etsy at $2.49 as well as Multi-Pack discount options on Etsy in quantities of 5, 10, 25, 50 and 100 that drop the price as low as $1.25 each!
Take advantage of this great offer and order extra for your friends, other EV enthusiasts or to just have extras!
We can also print special versions of the hanger for your dealership, manufacturer or enthusiast organization with your own messaging, logos and website information. Minimum order is 1,000 hangers with price breaks up to 10,000 units. Contact us at info@takechargeandgo.com
Patent Pending. Copyright 2015 – Take Charge and Go